Vendor:
Idera
UN Group: UN-43232300 - Data management and query software
Idera WhereScape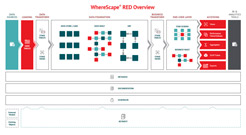 WhereScape helps IT organizations of all sizes leverage automation to design, develop, deploy, and operate data infrastructure faster. Thousands of users worldwide rely on WhereScape automation to eliminate hand-coding and other repetitive, time-intensive aspects of data infrastructure projects to deliver data warehouses, vaults, lakes and marts in days or weeks rather than in months or years.
When was the last time you measured time to production in days? From data warehouses and vaults to data lakes and marts, deliver data infrastructure and big data integration fast. Eliminate hand-coding, automate data and documentation, and focus on the work that turns IT requestors into IT advocates.
Infrastructure Automation with WhereScape Whatever data source, modeling style or platform you choose to deliver accurate information to the business, you can get there faster with Data Automation. We have specific solutions for each of the subject areas below, so click on the ones relevant to you to find out how WhereScape can automate repetitive tasks to increase speed and productivity.
Available as:
Commercial license
Goverment license
Volume license
1 year license
2 year license
Floating license
Term. license
Multi-user license
OS support:
Windows 10
Windows 11
Windows Server 2016
Windows Server 2019
Windows Server 2022
Media available:
ESD
Similar products:
---
| Order | Item no | Name | Type | Price excl. VAT | Price incl. VAT 24% |
| --- | --- | --- | --- | --- | --- |
| Call! | | | | | |
License prices are often shown as a price per user or computer. Moonsoft reserves the right to change pricing without prior notice. The prices indicated are shown with value added tax (usually 24% except for books) and without. To see more information about a product, click the item number in the table above.