Vendor:
Jetico
UN Group: UN-43233200 - Security and protection software
Jetico Jetico BCWipe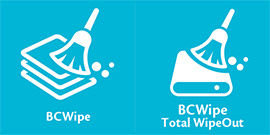 Permanent erasure of data

Jetico Data Wiping products help to wipe files or entire disks so that data is no longer accessible, data cannot be recovered or undeleted.

Why do you need data wiping?

When you work with personal, confidential, or classified information, sensitive information is stored on your hard drives. Normal file deletion only removes file references when the content remains intact on the hard drive in different locations. The confidential files you intended to delete can easily be restored using widely available recovery tools. The same applies to devices at the end of their service life and their discs. Deleting data or reformatting discs does not guarantee that the data cannot be recovered.

Jetico BCWipe helps to permanently erase files so they can never be restored, and Jetico BCWipe Total WipeOut is the most powerful and reliable tool for destroying the contents of available hard disks.

Jetico Data Wiping - Key benefits are:
- Securely erase files beyond forensic recovery
- Wipe data on active computers (Data Spills) & for end of life (Decommission)
- 10+ years trusted by U.S. DoD & DoE
- Data erasure compliance (GDPR, HIPAA, PCI DSS)
- Available for Windows, Mac & UNIX
- Support for SSD & SSHD
- Centralized wiping & reporting for enterprises

Contact to Moonsoft Oy to find out more about Jeticon software solutions AND ask more about licensing options.

Available as:
Commercial license
Volume license
OS support:
Linux
Unix
Windows 10
Windows 11
Windows Server 2012
Windows Server 2016
Windows Server 2019
Windows Server 2022
Win32
Win64
Media available:
---
| Order | Item no | Name | Type | Price excl. VAT | Price incl. VAT 24% |
| --- | --- | --- | --- | --- | --- |
| Order | 191284 | Jetico BCWipe EE (1-wipe) | License | 79,95 € | 99,14 € |
License prices are often shown as a price per user or computer. Moonsoft reserves the right to change pricing without prior notice. The prices indicated are shown with value added tax (usually 24% except for books) and without. To see more information about a product, click the item number in the table above.