Vendor:
X1 Discovery
UN Group: UN-43233200 - Security and protection software
X1 Discovery X1 Distributed Discovery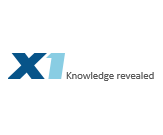 X1 Search - X1 Search provides users the fastest, simplest way to find and work with the exact information they need and thought they'd never find again. By providing the fastest access to their documents and email, X1 Search unlocks the potential for people to leverage years of experience with just a few keystrokes, dramatically improve productivity, and function at their highest level.
X1 Social Discovery - Unlike archiving and image capture solutions, X1 Social Discovery provides for a case-centric workflow from search and collection through production in searchable native format, while preserving critical metadata not possible through image capture or printouts. X1 Social Discovery saves investigators critical man hours and enables reactive data collection capabilities for social media and website collections in a manner consistent with evidentiary best practices.
X1 Distributed Discovery- Unique in the industry, X1 Distributed Discovery upends the traditional collection process by analyzing ESI on a custodian's assigned computer on a moment's notice, prior to collection, enabling true early case assessment (ECA) and focusing collections as precisely as desired. X1 dramatically increases speed to review via direct upload to Relativity or other review platforms.
X1 Distributed GRC - is the only employee monitoring software that enables you to access, analyze, and act upon data—on an individual's computer and throughout company networks—in just minutes, for the purpose of internal policy, data audit, and regulatory adherence. It's the ultimate GDPR compliance checklist.
Available as:
Commercial license
Academic license
Goverment license
Volume license
OS support:
Windows 10
Windows 11
Windows Server 2012
Windows Server 2016
Windows Server 2019
Windows Server 2022
Media available:
ESD
---
| Order | Item no | Name | Type | Price excl. VAT | Price incl. VAT 24% |
| --- | --- | --- | --- | --- | --- |
| Order | 20913 | X1 Search Annual Subscription (Autorenewal) | Subscription | 119,00 € | 147,56 € |
License prices are often shown as a price per user or computer. Moonsoft reserves the right to change pricing without prior notice. The prices indicated are shown with value added tax (usually 24% except for books) and without. To see more information about a product, click the item number in the table above.