Vendor:
Nintex
UN Group: UN-43231507 - Project management software
Nintex Nintex Workflow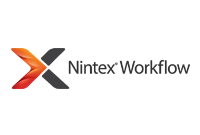 Business advantage with digital workflows - Just how automated is your business? Businesses need to automate everything they do in order to stay agile and grow. From employee onboarding to contract management, from IT helpdesk ticketing to quote generation, the more processes a business can automate, the more productive its employees can be. Therefore it might surprise you that 68% of business processes remain highly manual, eating into productivity and profit margins. No matter what database or applications your business is using, Nintex can connect all your processes and data with its advanced workflow platform, digitally transforming your processes and leading your organisation to full business automation.
The Nintex Workflow Platform - Nintex workflow platform powers digital workflow automation. Nintex turn time-consuming tasks into a few simple clicks and inefficient, company-wide processes into well-run engines. Nintex give you the ability to do more.
Nintex Workflow automate processes with clicks, not code With Nintex Workflow, you can tackle everything from basic business functions to company-wide processes with a few clicks - not code. Quickly turn time-consuming, unstructured processes into automated, efficient workflows. Make every part of your business work better, across all departments and functions.
Orchestrate your work - Every day, thousands of tasks, steps and processes drive your team. Optimize those processes. Orchestrate how work gets done. With Nintex workflow automation solutions, you can automate and simplify complex processes, saving countless hours that your teams can put towards the work they were meant to be doing.
Automate anywhere - Processes are everywhere. Workflow automation needs to be, too. Whatever your platform, wherever the content, Nintex Workflow Cloud gives everyone the horsepower to quickly build process apps and digital workflows. Easily integrate workflows with any business application, cloud service and content repository using Nintex Workflow Cloud.
Build Office 365 workflows in minutes - Automate Office 365 with clicks, not code. Nintex Workflow for Office 365 is a simple, powerful tool for process automation. The intuitive, browser-based drag-and-drop workflow designer lets you tackle everything from a specific task in a single department to complex, company-wide procedures.
SharePoint workflows, without the work - Nintex Workflow for SharePoint seamlessly integrates with SharePoint and enhances rather than replaces existing SharePoint investments. Nintex Workflow integrates into the SharePoint product ribbon and directly interacts with SharePoint data. No import, no export, no middleware. And, Nintex Workflow for SharePoint 2016 lets you design and deploy hybrid workflows that interact between on-premises and cloud applications.
Nintex Forms - Forms as fast as point, click, done Forms are a critical source of information for your company, and there's a way for them to work harder within your workflow. Design forms using pre-defined layouts for any device, form factor or screen size. By eliminating steps from mundane processes, Nintex Forms makes it easier to route data to the correct locations, and keep teams working efficiently. Nintex Forms makes it easier to route data to the correct locations, and keep teams working efficiently.
Nintex Mobile - Mobile workflow and forms: Put your work in your pocket and go Nintex Mobile allows you to do your job wherever your work takes you. Capture data, submit requests, complete tasks, review and approve content - all from your mobile device. Keep work flowing securely while you're on the move - both online and offline.
Nintex Hawkeye Workflow Analytics - Move beyond process automation and focus on process optimization Using Nintex Hawkeye, your entire business gains the visibility to measure scope, effectiveness, and business impact of processes automated with the Nintex Workflow Platform.
Nintex App Studio - Easily create custom, targeted, and powerful mobile process applications Use Nintex App Studio to build and deploy focused mobile process applications across Nintex Workflow Cloud™, SharePoint on premises, and SharePoint Online without writing a single line of code.
Nintex Document Generation - Let your documents do the work Simplify document creation using the same data and documents you use today. Generate documents from any standard or custom Salesforce object at the click of a button with Nintex Document Generation for Salesforce (formerly Drawloop). Use the Document Generation Action within Nintex Workflow, across SharePoint, Office 365, and Nintex Workflow Cloud to create dynamic, data-driven, and compliant documents to accelerate sales and business results.
Nintex Connectors - Workflows without boundaries You rarely find everything necessary for a process in one place. People work in multiple content systems, cloud services and line-of-business apps inside and outside the organization. Nintex Connectors span boundaries and provide seamless integration to keep work moving between systems.
Available as:
Commercial license
1 year license
OS support:
Cloud
Media available:
Similar products:
---
| Order | Item no | Name | Type | Price excl. VAT | Price incl. VAT 24% |
| --- | --- | --- | --- | --- | --- |
| Order | 190540 | Nintex Workflow Standard Edition 10 workflows Annual | Subscription | 9 173,00 € | 11 374,52 € |
License prices are often shown as a price per user or computer. Moonsoft reserves the right to change pricing without prior notice. The prices indicated are shown with value added tax (usually 24% except for books) and without. To see more information about a product, click the item number in the table above.