Objective Systems Inc. ASN1C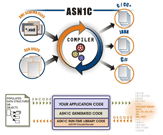 The ASN1C ASN.1 compiler translates ASN.1 and/or XML schema (XSD) source specifications into C, C++, C#, or Java source code. Developers can use this code to translate structures/objects to and from finished ASN.1 messages using any of the ITU-T/ISO encoding rules (BER, CER, DER, PER or XER) as well as the ISO/IEEE Medical Device Encoding Rules (MDER) and NTCIP Octet Encoding Rules (OER). ASN1C also includes tools for converting XSD specifications to ASN.1 specifications and vice versa.
ASN1VE (ASN.1 Viewer / Editor) is a graphical user interface (GUI) tool for analyzing and editing data encoded using any of the ASN.1 encoding rules (BER, DER, CER, PER, U-PER). It provides the capability to assign an ASN.1 schema to binary data to produce multiple views of the data showing all of the assigned type and element names.
ASN2TXT (ASN.1 to text translator) is a command-line tool for translating data encoded using BER, CER, DER, or PER ASN.1 encoding rules to various text formats. Currently it supports writing CSV data (for BER/CER/DER only) and XML (all encoding rules).
Available as:
Commercial license
Academic license
Goverment license
Volume license
OS support:
.NET
Java
Windows Server 2016
Windows Server 2019
Windows Server 2022
Win64
Media available:
ESD
Similar products:
---
| Order | Item no | Name | Type | Price excl. VAT | Price incl. VAT 24% |
| --- | --- | --- | --- | --- | --- |
| Order | 51223 | ASN1VE Per-user License Support (Annual) (ESD) | Maintenance | 122,12 € | 151,43 € |
License prices are often shown as a price per user or computer. Moonsoft reserves the right to change pricing without prior notice. The prices indicated are shown with value added tax (usually 24% except for books) and without. To see more information about a product, click the item number in the table above.