Vendor:
iGrafx
UN Group: UN-43232605 - Analytical or scientific software
iGrafx iGrafx FlowCharter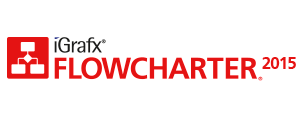 iGrafx delivers powerful capabilities and services that increase the ability to make actionable decisions based on heightened insights. iGrafx enables easy deployment of automated processes, creation of detailed process documentation for knowledge sharing, the ability to view and navigate all enterprise information that directly relates to a role within an organization, and provides businesses that manage global SAP implementations a broader view into how changes affect business operations.
Available as:
Commercial license
User license
Academic license
OS support:
Windows 10
Windows 11
Win64
Media available:
ESD
---
| Order | Item no | Name | Type | Price excl. VAT | Price incl. VAT 24% |
| --- | --- | --- | --- | --- | --- |
| Order | 23153 | iGrafx FlowCharter Desktop Client - 1 Y Subscription (Non-Cancellable/Returnable) | Subscription | 407,78 € | 505,65 € |
License prices are often shown as a price per user or computer. Moonsoft reserves the right to change pricing without prior notice. The prices indicated are shown with value added tax (usually 24% except for books) and without. To see more information about a product, click the item number in the table above.