Vendor:
SYSTAT
UN Group: UN-43232300 - Data management and query software
SYSTAT SigmaPlot 14.5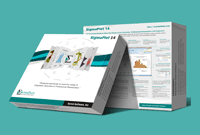 The important features of SigmaPlot version 13 are:
Forest plot combines the results of like studies to improve statistical significance Kernel density plot is a smooth curve representation of the underlying data distribution 10 New color schemes for improved visualization Legend improvements including Direct Labeling for increased ease of use Line widths from a column for custom graph creation Principal components analysis to determine the major data relationships Analysis of Covariance (ANCOVA) includes the effects of "nuisance" variables Added P values to multiple comparisons for non-parametric ANOVAs Dot density graph with mean and standard error bars for improved data description.
Other new features in this version include: Akaike Information Criterion (AICc) in the Regression Wizard and Dynamic Fit Wizard reports and the Report Options dialog Seven weighting functions added to all curve fit equations in standard.jfl Notebook items can now be rearranged by dragging SVG and SWF file formats for scalable vector graphics export Vector PDF export to improve on the existing raster PDF File import and export support is added for Versions 13 and 14 of Minitab, Version 9 of SAS, Version 19 of SPSS and Version 13 of Symphony
Available as:
Commercial license
Workstation license
Academic license
Goverment license
Volume license
1 year license
Floating license
OS support:
Windows 10
Media available:
ESD
---
| Order | Item no | Name | Type | Price excl. VAT | Price incl. VAT 24% |
| --- | --- | --- | --- | --- | --- |
| Order | 16006 | SigmaPlot 1 User 1Y Maintenance | Maintenance | 199,06 € | 246,83 € |
License prices are often shown as a price per user or computer. Moonsoft reserves the right to change pricing without prior notice. The prices indicated are shown with value added tax (usually 24% except for books) and without. To see more information about a product, click the item number in the table above.