Vendor:
ATLAS.ti
UN Group: UN-43232300 - Data management and query software
ATLAS.ti ATLAS.ti 23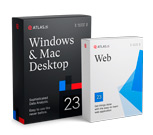 Complete research projects lightning-fast with OpenAI. ATLAS.ti removes the headache from qualitative data analysis and lets the software do the heavy lifting. Analyze what you want, the way you want.
ATLAS.ti is the only QDA software that provides all-in-one access to desktop versions for Windows and Mac as well as a Web version, regardless of the license (semester, student, single-user, multi-user or campus license)*. Our mobile apps for field research on Android and iPad are available for unlimited use in addition to every license at no extra cost.
ATLAS.ti is a tightly integrated suite of tools that support your analysis of written texts, audio, video, and graphic data. The integration of its tools is designed to perfectly support the work flow of the qualitative researcher. Hence, ATLAS.ti brings to the job highly sophisticated tools to manage, extract, compare, explore, and reassemble meaningful segments of large amounts of data in flexible and creative, yet systematic ways. It has been said that qualitative analysis is equal parts art and science. But ATLAS.ti proves that sophisticated technology can perfectly amalgamate both aspects--it is qualitative analysis software incarnate. If qualitative data analysis is what your job requires, you will be hard pressed to find another QACDAS package with the same power, elegance, and support for an equally wide range of data formats. ATLAS.ti sets the standards for qualitative research software. Qualitative research and researchers the world over rely on ATLAS.ti for all of their data analysis needs.
From OpenAI-powered AI features to comprehensive multi-media analysis and state of the art visualization ATLAS.ti Desktop empowers your entire research workflow on Windows and macOS.
Make sense of research data rapidly. ATLAS.ti streamlines qualitative analysis through intuitive tools to annotate, code, and visualize connections in your material. The interactive margin area keeps key insights handy for incorporating into reports. Share projects seamlessly between Windows, Mac, and the Web version.
Available as:
Commercial license
Workstation license
Academic license
Goverment license
Floating license
Term. license
Multi-user license
OS support:
Android
Mac OS X
Windows 10
Windows 11
Windows Server 2016
Windows Server 2019
Windows Server 2022
Media available:
ESD
---
| Order | Item no | Name | Type | Price excl. VAT | Price incl. VAT 24% |
| --- | --- | --- | --- | --- | --- |
| Order | 14005 | ATLAS.ti 10 User Lease/Subscription License EN (ESD) (Autorenewal) | Subscription | 2 760,00 € | 3 422,40 € |
License prices are often shown as a price per user or computer. Moonsoft reserves the right to change pricing without prior notice. The prices indicated are shown with value added tax (usually 24% except for books) and without. To see more information about a product, click the item number in the table above.