Vendor:
Verbi GmbH
UN Group: UN-43232300 - Data management and query software
Verbi GmbH MAXQDA 24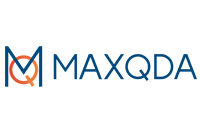 MAXQDA is a program designed to facilitate and support qualitative, quantitative and mixed methods research projects. It allows you to import, organize, analyze, visualize and publish all forms of data that can be collected electronically, including interviews, surveys, (PDF) documents, tables (Excel / SPSS), bibliographic data, pictures, videos, web pages and even tweets. With its comprehensive range of functions, from transcription to inferential statistical analysis, MAXQDA is an - all in one - software for research and teaching purposes in numerous disciplines.
Analyze all kinds of data - from texts to images and audio/video files, websites, tweets, focus group discussions, survey responses, and much more. MAXQDA is at once powerful and easy-to-use, innovative and user-friendly, as well as the only leading QDA software that is 100% identical on Windows and Mac.
With the latest version of MAXQDA, we stay true to our three-decade commitment: To empower researchers worldwide with software that streamlines data organization and analysis. With over 35 new features and improvements, the new MAXQDA will enhance your productivity, efficiency, and overall research experience.
Available as:
Commercial license
User license
Academic license
Goverment license
Volume license
OS support:
Mac OS X
Windows 10
Windows 11
Media available:
ESD
---
| Order | Item no | Name | Type | Price excl. VAT | Price incl. VAT 24% |
| --- | --- | --- | --- | --- | --- |
| Order | 193760 | MAXQDA Academia (Annual Subscription) 3-4 Users (Price per User) (ESD) | Subscription | 177,69 € | 220,34 € |
License prices are often shown as a price per user or computer. Moonsoft reserves the right to change pricing without prior notice. The prices indicated are shown with value added tax (usually 24% except for books) and without. To see more information about a product, click the item number in the table above.